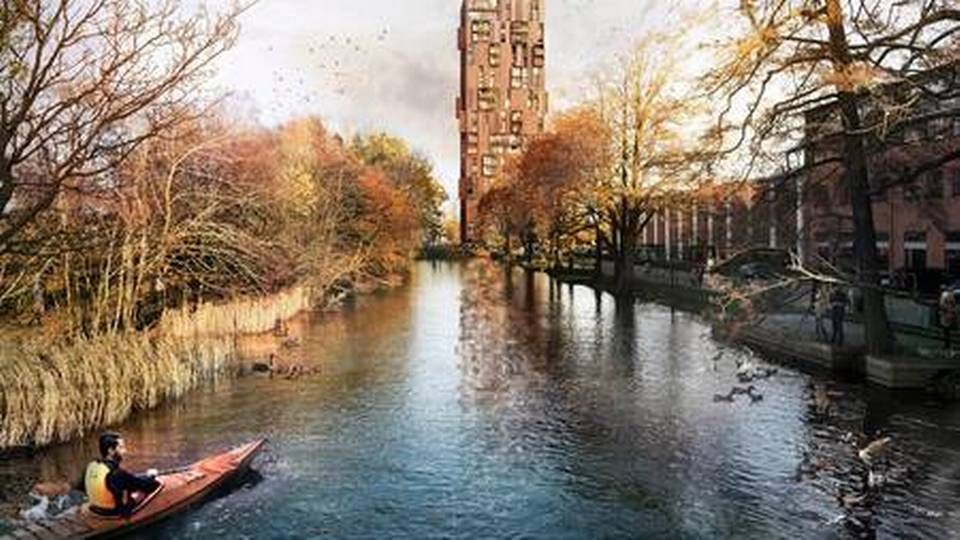 Luxury apartments with a view of Silkeborg city in Denmark and the area's unique nature, seen from an altitude of up to 70 meters. This is what awaits the discerning potential buyers when the hitherto tallest residential construction in the central Jutland region of Denmark becomes reality in 2020, containing approx. 80 tenancies intended for exclusive apartments and co-operative apartments, amounting to a total project cost of a three-digit million sum in DKK.
It is a very exciting building project, and it will be a gem to our investors
Asset manager Aberdeen Asset Management bought the plot by mandate from its investors. The spectacular new construction, which is set to begin later this year, is located on the former grounds of an old paper factory in Silkeborg, a five-minute walk from the city center.
"It is an incredibly attractive area. Thanks to our contacts and network, we were able to broaden the palette for residents of Silkeborg. It is a very exciting building project, and it will be a gem to our investors when it is finished," says Henrik Kruse, Head of Business Development Denmark, at Aberdeen Asset Management.
More difficult to do business in Copenhagen
The Paper Tower (Danish: Papirtårnet), as it has been dubbed, will total 11,380 square meters of floor space distributed on 23 stories. The 70-meter-tall building will contain about 1,000 square meters of commercial floor space, which Aberdeen anticipates filling with stores and restaurants. The remaining floors of the building are reserved for naturally well-lit apartments of different sizes, all of which will have individual balconies, attractive views, and their own parking spots in the basement garage.
Aberdeen's interesting investment in Silkeborg partly reflects the current market in Copenhagen, which has unusually fierce competition.
"We have intense focus on real estate in Copenhagen, but as the market develops, other cities in Denmark have become interesting as well. Silkeborg is a very interesting city from a development perspective. It has beautiful nature, good infrastructure, and a vibrant urban life," says Kruse, who does not hesitate to call the building a future hallmark of Silkeborg.
"The demand for attractive apartments in Copenhagen is very high, and the cases that favor buyers and developers are few and far between," he continues.
Who are the investors?
"They are foreign investors who focus on finding this type of projects in Europe. So we are very happy that we have been able to help," says Kruse.
Local club owner sells plot and building rights
Kruse's coworker, Fund Manager Michael Schumann, will not disclose the exact initial yields of the investment, but as the location is unequaled in Silkeborg, and due to the fact that it is a high-rise building, the project could compete with property investment in Copenhagen or Aarhus, he says.
We expect to launch another three to five projects targeted at the same investors within the next few years
Aberdeen bought the plot from limited partnership Papirfabrikken, a subsidiary of local football club owner Silkeborg IF Invest, with a number of local business people and investors from Silkeborg in the circle of owners.
The company owns four building rights, of which Aberdeen bought one. It is approved for high-rise buildings at a maximum height of 70 meters on the 500 square meter plot.
"We need exemption from the local development plan, but that is merely a matter of formality," says Michael Schumann, who assesses that the remaining three building rights are not suitable for construction, which is what Aberdeen and investors behind the asset manager are looking for. The number of square meters is too small for their purpose.
"We have other projects going as well, and we expect to launch another three to five projects targeted at the same investors within the next few years. Normally it would have to exceed 10,000 square meters to have enough volume for us to find it interesting," Kruse adds.
Out of the apartments on the lower 22 floors, half will be put up for sale as co-operative apartments, while the remaining part up to the top of the building will be offered as luxury condominiums , which Aberdeen intends to sell individually to buyers with special interest. Aberdeen will not reveal the final project cost, but if a conservative price of DKK 3 million is assumed, then 40 luxury apartments by themselves would total DKK 120 million. Then come the co-operative apartments in addition, which will be somewhat less expensive.
The construction area is a parking lot at the moment, but the new building will contain a basement garage that compensates for the seized parking space.
The Paper Tower is designed by Årstiderne Arkitekter, located in Silkeborg.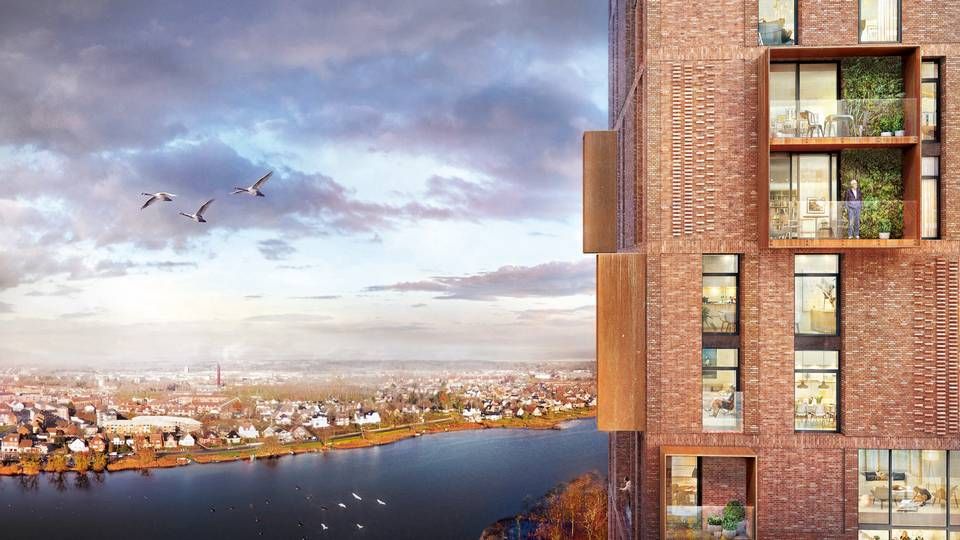 English Edit: Marie Honoré