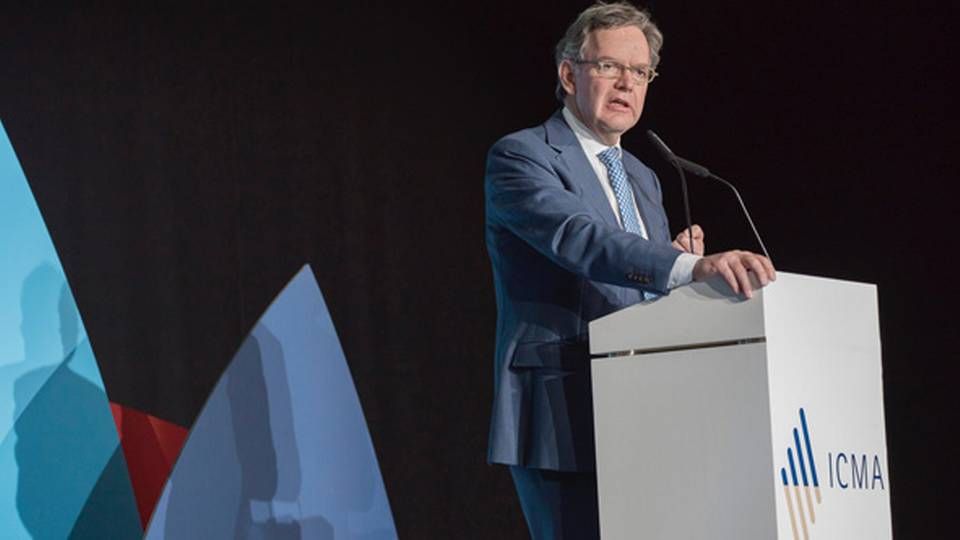 LUXEMBOURG
Dutch Steven Maijoor is chairman of the European Securities and Markets Authority (ESMA) and he flat out rejects any change to the deadline for the major tightening of rules to protect private investors, known as MiFID II. However, he does acknowledge that it will be a big burden on Europe's financial sector.
"I imagine that many of you are busy with MiFID II. At the ESMA, we sure are. We're working very hard to reach the set deadline and we will," said Maijoor when he participated recently at the International Capital Market Association (ICMA)'s annual conference in Luxembourg, where asset managers from around the world were gathered.
The ESMA chair admits that he knows that MiFID II is considered a major burden – causing great frustration – for many players in finance. But he sees a purpose to it all.
"Of course, there is increased reporting and costs go up. But it's just as important to highlight that we are moving towards a single market with common rules which means that we can reduce burdens and increase the opportunities for market participants to do business across the EU. It's important to remember that," said Maijoor.
"Maybe that's why you can see in MiFID II that in some of the directive complexes, compromises have been made for more continuity in the regulations," he added, directly referring to a dominating view from market participants that some of the impending rules do not seem equally appropriate in all corners of the market.
Compromises in new regulations
ESMA is in charge of assisting in the implementation of the second and very comprehensive round of MiFID rules, which are intended to strengthen investor protection and increase competition in securities trading.
The first part of MiFID took force in 2007, and in 2011 major changes – also known as MiFID II – were passed. These will take effect on Jan. 1, 2018.
MiFID II affects many players on the financial market and concerns aspects such as securities trading, consultancy payment, and the separation of payments for trade and research. With less than seven months until the deadline, many uncertainties remain unresolved in various areas. But despite this, the timeline will not be changed.
One of ESMA's tools are the Q&As which are meant to clarify questions about MiFID II in the various areas.
"We will continue to issue Q&A guidelines to ensure that we have uniform monitoring and competent implementation of MiFID II," Maijoor said, adding:
"I would like to specifically mention increased transparency surrounding bonds, which is a central area in MiFID II, and here we expect to soon publish the limits for major transactions which will be exempt from the new transparency regime."
One step towards a single capital market
Maijoor encouraged participants at the ICMA conference to view MiFID II as a step towards the EU Commission's desire to create a single capital market in 2019. The purpose of a single capital market is to enable the mobilization of capital in Europe for things such as SMEs or for infrastructure projects.
"It will be particularly beneficial for the EU to have a greater capital market when the capital market becomes a larger part of the financial system. It will help increase the degree of equity financing in the financial system which will increase the financial system's competitiveness," he said and added:
"That the UK, as the largest capital market, is leaving the EU, will of course have a negative impact on the capital market union, but at the same time it makes the argument even greater for the 27 EU nations to continue building the capital market union."
The chair of the European Securities and Markets Authority highlighted the importance of common global standards.
"It's important that we work towards global rules and standards, because otherwise it could result in global regulation being less effective and creating regulatory competition while reducing faith in the idea that we can trust each other," he said.
Questioning global standards
In relation to global standards, the ESMA chair was asked by audience members whether he eyes a risk of the development heading in the direction of greater differences in global regulation. One reason is that US President Donald Trump has aired the idea of rolling back financial regulation.
"It's clear that over the past year we have seen signs of that, as global standards have been questioned. It's very important to look at what is being done. But if we start having unequal conditions then I'm convinced that ultimately it will slow down the development we've seen in global financial markets," he said, adding:
"I think that market participants can see that point themselves. But I completely understand that legislation and regulation is not always welcomed with open arms, as it can make things more complex, bring increased costs, and etc. But we have to continue striving for uniform global regulation."
English Edit: Gretchen Deverell Pedersen