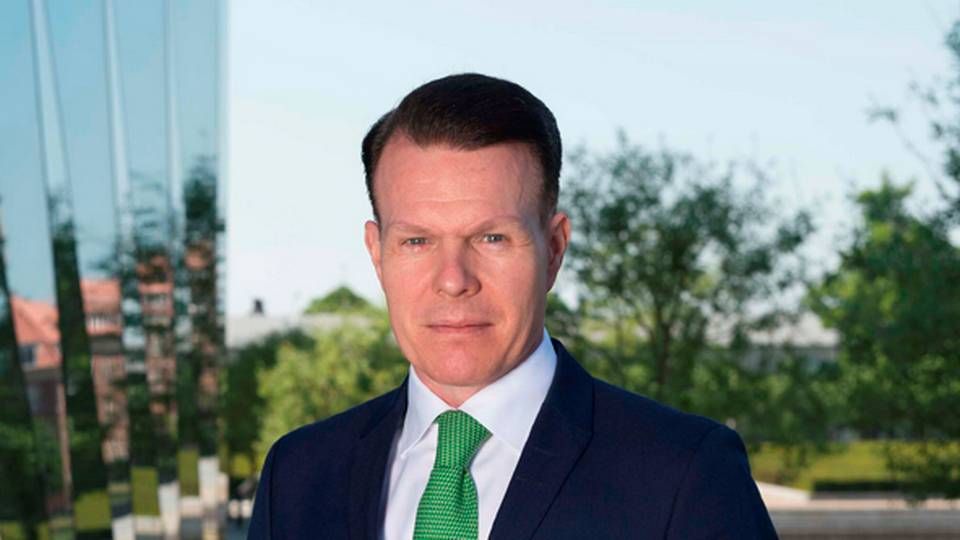 Søren Kyhl, Chief Operating Officer at Saxo Bank, is the first person to enter the spotlight of FW Asset Management's digital interview relay. In the interview relay, we ask people in the business about their speculations on technological developments in the asset management world over the next 10 years. The interviewee chooses to whom they will pass the baton.
"Existing banks have so much legacy in their systems that it's almost inconceivable. Their systems are often based on outdated technology with an old mainframe at the center. Then they have a number of systems around that, maybe 19-20 of them. That is what they call a platform. But in reality, it's just 19-20 systems tied together with duct tape and bubblegum," says Kyhl, talking fast and radiating passion from the low-rise sofa in the glass wall office, across from CEO Kim Fournais' office, on the top floor of Saxo bank's office building North of Copenhagen, facing the sea.
His eyes do not wander once while he lists in rapid succession the problems that many old retail banks suffer from in their asset management units.
"For the existing retail banks, it's both an advantage and a disadvantage, in fact when customers enter these platforms and actually have a decent user experience. The problem is that these systems are extremely expensive for the banks to maintain. A survey shows that a typical, generic universal bank spends more than 3/4 of its IT investments to provide a user experience that is identical from one day to the next. They spend an absurd percentage of their investments just to get the same car running again tomorrow, so to say. And that is a problem, because it leaves little room to develop new and better services," says Kyhl.
Platform hygiene is the Alpha and Omega
Søren Kyhl joined Saxo Bank in January last year after 13 successful years with Danske Bank. Already from the moment of employment, he was impressed by Saxo Bank's choice to go all in and design a new platform in HTML 5 in an attempt to keep the severe discipline required in platform hygiene.
As it was, Saxo Bank had been straying down dark paths to new systems based on a classic mainframe. It meant that Saxo Bank was wasting time coding the same information for different systems in order to get the same information out to customers with PCs, Samsung phones, Apple tablets, and many other devices:
"The important thing when looking at digitalization is to stay extremely focused on the hygiene of the platform, constantly pruning it. We are the only ones who have a platform that is fully based on modern technology like HTML5 and cloudbased, and a platform that can connect to the world through OpenApi. It means that we only have to write each input once, but it adapts to each different device. Previously, we had to write multitudes of inputs," Kyhl explains, praising the courage of management's choice to take the plunge. A quick sip from the black and gray ceramic mug, then on to what the future brings:
"Digitalized advice and asset management is one important trend, often named roboadvisors. The other trend that we really believe in is helping people to trade and invest better on their own. Clients might have opinions on e.g. environment or countries or the French presidential election, which they might want to take into consideration for their investments. It's an example of how we work on creating personalized and theme based client support. We do that by means of AI (Artificial Intelligence, ed.). And these are some of the things that we believe will develop asset management drastically in the coming years."
All in all, a cross between letting customers decide everything for themselves based on gut feeling and the news, and the alternative, in which a human or a roboadvisor guides the process.
Through the glass walls, we can see the owner and CEO of Saxo Bank, Kim Fournais, getting ready to leave. It is still sunny outside, it is 4:30 PM. Kyhl sits facing away from Fournais' office, unperturbedly carrying on about transparency.
Nothing must be kept from customers
"I believe that transparency is crucial for the future of asset management. The law stipulates this, but technology does as well. You can unbundle all parts, and in that way the customer can see exactly what they are paying for each service. Those who fail to embrace this trend are facing hard times," Kyhl predicts.
Another trend that both Kyhl and Saxo Bank believe in is that asset managers ought to browse more widely in the digital supermarket – buying software and systems instead of developing everything from scratch.
"Looking back 15 years, companies built the CRM systems themselves. But nobody does that anymore. They use for example Sales force or Microsoft Dynamics because they are standardized. We believe the same thing for our product. You buy the platform and make it your own."
Shouldn't you just be a software company, then?
"No, we can't. We believe that you can only make a proper white label product with your own stakes on the line. So we will always have a considerable amount of business where we are dependent on the functionality of the platform ourselves, too. It also makes us more credible when we are also directly dependent on our own platform."
Traditional banks working overtime
To summarize liberally: The future belongs to the transparent who are willing to collaborate across fields and platforms to offer customers the most user-friendly and intuitive product at a fair price.
"Banks are facing a major challenge in restructuring in general but definitely also when it comes to asset management. We faced fewer challenges disrupting ourselves because we didn't have much to lose. We believe that even mentioning the word 'cannibalizing' means that you are already dead. Because cannibalizing means that I want to keep selling something to you as customer. That is not the best for you, but it's good for me. And this is the problem that established financial institutions are facing," Kyhn concludes as his secretary discreetly signals through the glass door that more people are waiting for Kyhl outside, even though it is now past 5 PM.
The good old days with heavy oak doors and everything organized in boxes on paper downstairs are clearly over.
Søren Kyhl passes the baton to professor Ken Bechmann from CBS.
Institutional investors are increasingly active at AGMs
English Edit: Marie Honoré