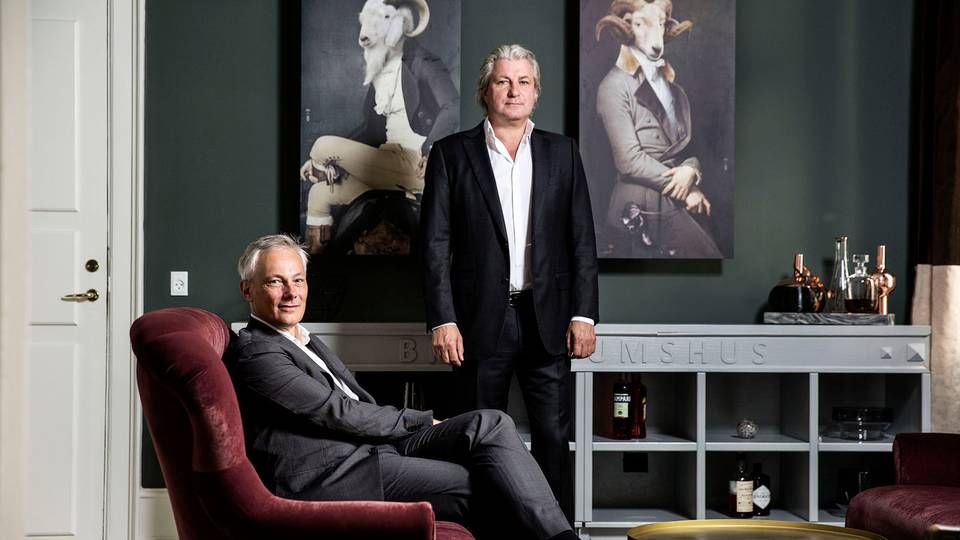 In Denmark, banks dominate the market for private investment. But change is underway.
At least according to former SEB director peter Kubicki, who recently became CEO of a new, fairly unknown asset manager named Investeringsrådgivning A/S.
"With MiFID II there will be a lot more transparency around what customers pay for the service provided by banks. When the actual numbers see the light of day, I think many people will feel the need to stop and reconsider," says Kubicki, adding:
"I think we will see increased competition, not only in terms of price, but also in quality."
The MiFID II EU directive intends to increase the protection of investors by means of i.a. more transparency over prices. In Denmark, the rules take effect in two phases, July 1 and January 3, 2018, respectively.
FinansWatch meets with Peter Kubicki in Investeringsrådgivning A/S's offices in central Copenhagen.
"We need to lift this to a new level so we can reach further out and have more impact, and so that over time, we can reach DKK 10 or 20 billion under management," says Kubicki, seated on one of two sofas in the office lounge room.
Word of mouth
The company was founded in 2009 in central Jutland, Denmark, by brothers Rene and Michael Krogh Andersen. In 1997, the latter founded stockbroking company Investering & Tryghed, which he sold in 2007.
Michael Krogh Andersen now leaves his position as CEO of Investeringsrådgivning A/S, but he remains a major shareholder, only now instead focusing on customers, both new and existing.
However, there is quite a way to go before Investeringsrådgivning A/S reaches a two-digit billion kroner sum from the DKK 3 billion that the company currently manages.
"We have grown steadily by word of mouth," says Chief Investment Officer Christian Klarskov, who is seated on the sofa next to his new colleague.
But although Kubicki and Klarskov now share offices and goals, they used to be competitors from different stockbroking firms in the 90s. Klarskov was head of equities and Handelsbanken Capital markets, and Kubicki had the same title, but at SEB.
The last country in the world
Klarskov has been with Investeringsrådgivning A/S since 2014. He was previously portfolio manager on Danish equities for six years at Nordea Investment Management.
"I had no idea who Investeringsrådgivning A/S were. But one of the reasons why I accepted the offer was that I could see that Denmark is the last country in the world where banks still dominate all private customers," says Klarskov, adding:
"In Denmark, if you bring less than DKK 25 million, you just can't get decent service."
At Investeringsrådgivning A/S, the required minimum is DKK 750,000. But there are more options if a small investor should become interested in the manager's investment strategy.
Own model for equity development
Klarskov has since 2014 been in charge of investments in Danish equities, IR Favoritter, and this portfolio is one of five which where earlier this year listed as corporations on the Copenhagen stock exchange.
The purpose was to make it easier to invest in the portfolios with available capital, while also making them available for others besides Investeringsrådgivning A/S's customers.
In addition to IR Favoritter A/S, the other four companies invest in, respectively, European equities – primarily German – high-growth equities, corporate bonds, and high yield bonds.
Investeringsrådgivning A/S uses a special model, the IR quotient, developed by founder Michael Krogh Andersen.
The IR quotient is based on i.a. the Business Climate Index from the German Ifö institute, which is used to indicate when the equity holdings should be reduced and focus shifted to corporate bonds or cash.
"We are a stockbroking company, we like equities, and we have much experience with equities. But it is just not always wisest to invest in equities," says Klarskov.
Like insurance
the IR quotient means that Investeringsrådgivning A/S was out of equities in fall 2015, thus avoiding the consequences of a 20 percent plunge in the German stock market.
Historically, the IR quotient has predicted 9 out of 10 periods with rising stock markets, and 7 out of 10 periods with declining markets.
"I see it as a kind of insurance. Sometimes there was no fire after all, but that is nothing to regret. It means that we have avoided the big downturns of 20-30 percent, which happen sometimes. If you avoid those, you will get far," says Klarkskov, adding:
"Of course, it also means that one in 10 times when the market rises, we have no equities. So we miss out on some returns there. But our customers know this. They would rather miss out on 5 percent than lose 10 percent."
Launching mutual fund
IR Favoritter is soon to be found in a form that is accessible to all: As a mutual fund. However, it will be without the IR quotient, because mutual funds are not allowed to sell off the asset class that it is its purpose to invest in.
Since Klarskov launched IR Favoritter in August 2014, he has reached additional returns of 50 percent compared to the market. With the IR quotient activated like in IR Favoritter A/S, teh additional returns are at 25 percent.
"We have beaten the market with our selection of Danish equities for the past three years, and nobody knows. Our returns on stock picking have been about 100 percent since August 1, 2014. To compare, returns on the Danish stock market measured on the C20 Cap have been about 50 percent during the same period of time," says Klarskov.
English Edit: Marie Honoré