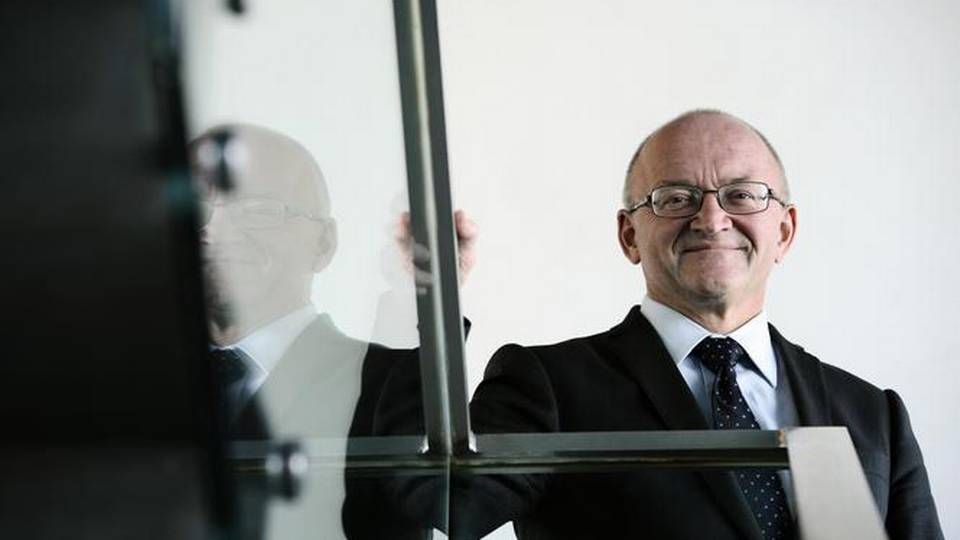 Pensiondanmark came out of 2017 with a total return of 8.5 percent before taxes. It is not the industry's best, but certainly not the worst either, and CEO Torben Möger Pedersen is pleased.
"We got the highest return on listed equities as a result of a very nice year in 2017. But I also think that we should note the very strong returns on our unlisted assets," says Torben Möger Pedersen in an interview with AMWatch.
Overall, the alternatives, which today account for 30 percent of the total assets of DKK 233 billion, a double-digit return close to the pension fund's return on equity, which in 2017 landed at 13 percent.
"It is a confirmation of our strategy that a high degree of risk diversification in the portfolio, where there are asset classes such as infrastructure and properties that provide a robust portfolio that can also withstand the market movements that we also expect more of in the next couple of years," he adds.
Focus on mortgages
Although bonds yield far from such high returns, Torben Möger Pedersen is also satisfied with a return of 3.3 percent from government bonds and mortgage bonds, which reach 24 percent of total investments.
"A return of 3.3 percent on our government and mortgage bonds is also very good in light of the low interest rate level, and it reflects that we have a significant overweight in our mortgage portfolio, where we have benefited from a narrowing in the yield spread to government bonds that has taken place in 2017," says the CEO.
Looking back – what could you have done differently in 2017?
"If we have to mention something, that could have gone better, it's on our dollar hedging. If we had hedged 100 percent, we could have increased returns slightly," says Torben Möger Pedersen, referring to the dollar's weaked position against the euro.
Global equities priced quite richly
What are you not so satisfied with now after 2017?
"While we are looking forward to the high returns, we must note that the high returns in 2016 and 2017 largely reflect an advancement in returns, which one would really have expected to unfold over a long period of time," says Torben Möger Pedersen, explaining:
"The stock markets are now globally fairly high priced, and prospectively, the potential is less than in recent years. Bond interest remains at a very low level and actually presents an asset class where the risk of loss is relatively high as interest rate movements move up slightly due to central banks normalizing monetary policy."
And therefore he is pleased with the alternative portfolio, where 30 percent of Pensiondanmark's total of DKK 233 billion is currently invested.
However, in 2017, the return on the alternative portfolio was higher than the long-term return target of the pension company.
Real estate returns hit long-term goals
Real estate investments yielded a return of 9.5 percent in 2017, which is higher than Pensiondanmark's long-term target of 5.5 percent.
"The return is based on the fact that the value of some of our most well-located office properties has risen like the rest of the property market, and that a number of homes we have had under construction have been completed and sold as condominiums with very significant profits," says Torben Möger Pedersen.
These are a number of residential buildings in Copenhagen and Vejle, which have been transferred to buyers in 2017. However, Pension Danmark's property portfolio will usually yield 5-6 percent in return on rental income from rental of office buildings, hotels, and department stores.
"There may also be years when returns fall below 5-6 percent. If interest rates rise, for example, and office property prices set a little, we will get a capital loss. But we will still get the same rent as the year before," says Torben Möger Pedersen.
Several revaluations on infrastructure
With a return of 12.8 percent, infrastructure has also given more than the long-term objective of at least 7 percent per year. According to Torben Möger Pedersen, there are two explanations.
One reason is that the pension company has made a "significant appreciation" of its investment in the Dutch natural gas transmission plant NGT. This has happened after equities in the company have been traded in 2017 at a significantly higher price than Pensiondanmark's previously assessed value. The higher price is due to the fact that new gas deposits have been found in the Dutch part of the North Sea, which NGT serves.
The second reason for the higher return on infrastructure comes from investments via Copenhagen Infrastructure Partners (CIP), which represents Pension Danmark's investments in renewable energy infrastructure. Here are a number of projects have been completed in 2017.
"As long as a wind farm is under construction, we post it for construction costs, and when the park is ready and used, a risky phase has passed and we can then value the park at the price we will be able to sell it at. This results in a nice appreciation," Torben Möger Pedersen explains.
By 2017, a number of biomass power plants and a large German wind farms have been put into production, and according to Torben Möger Pedersen, it has resulted in "significant revaluations of the values ​​in the portfolio".
"Of course we are happy, but we are first and foremost happy that our property and infrastructure portfolios generate stable current income," he adds.
Pensiondanmark has for several years been working to build a portfolio of alternative investments. This resulted in, among other things, the fact that five years ago, the pension fund collaborated with the newly established Copenhagen Infrastructure Partners (CIP), which has since resided with Pensiondanmark on Langelinje Allé.
The people of CIP originally came from Dong, where they had accumulated experience with investments in energy infrastructure investments, but when former Dong CEO Anders Eldrup was fired in 2012, the golden geese – as they were called – decided to establish CIP.
Pensiondanmark is a major investor in CIP
Pensiondanmark was the first investor, and five years later, CIP has an investment portfolio of DKK 46 billion, of which Pension Danmark is the largest single investor with investment commitments totaling DKK 18 billion.
"It is our ambition that infrastructure will constitute 10-12 percent of the portfolio, and the plan is that about half will be invested through CIP. This is also the background for the new commitment (March 2017) we have given the new CIP fund," says Torben Möger Pedersen.
Other infrastructure investments in addition to energy are handled by Pensiondanmark's own team of 15 people who also take care of other unlisted investments.
"We need to be strong to maintain a 10 percent share in infrastructure and property, respectively, when our balance grows by between DKK 1-2 billion a month. But despite the fact that the market is quite hot, in 2017 we have been able to land a number of very fine transactions in property and infrastructure," Torben Möger Pedersen says.
This is the reason why Pensiondanmark in 2017 has entered into several new partnerships. Two with A.P. Møller Holding in shipping and infrastructure through two new funds, and Pensiondanmark is also part of the consortium that bought into Nykredit in the autumn.
"We are very keen to identify new investment opportunities that can complement our existing investment in property and infrastructure," says the pension CEO.
English Edit: Marie Honoré