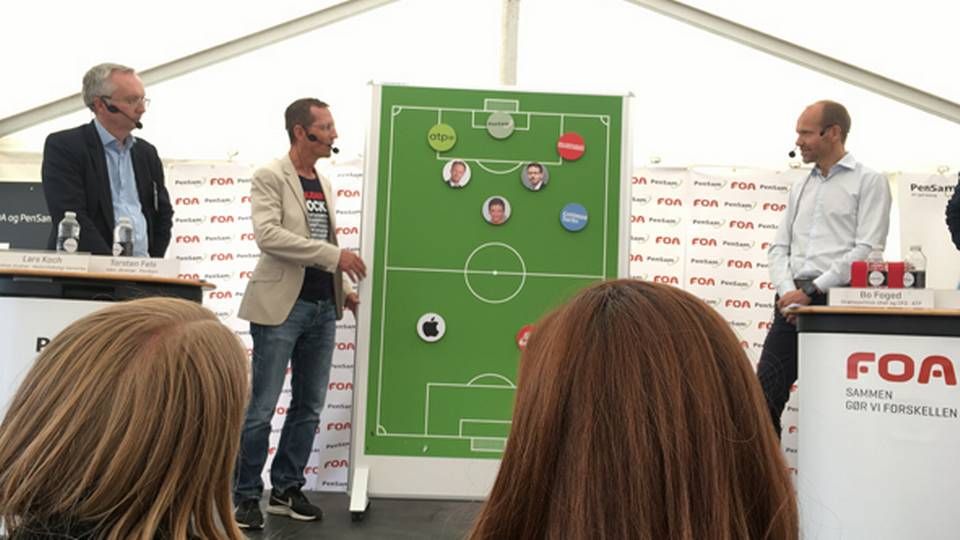 The pension funds ATP and Pensam took part in one of the first debates at The People's Political Festival -- an annual event on the Danish island of Bornholm which started on Thursday.
In a packed tent, the meeting's topic was: "Tax fraud – what do politicians and your pension fund do about it".
In addition to the two pension funds, the Danish Association for International Co-operation was present, and Lars Koch, political director, announced that developing countries lose about USD 100 billion in taxes from multinational companies, while EU member countries lose even more.
"Every year tax evasion accounts for 1000 billion euro (DKK 7.45 trillion). It's a massive problem, as the huge amount of money was otherwise earmarked to finance our welfare system," says Torsten Fels, executive of Pensiondanmark which has 400,000 members.
"Our customers work predominantly in the public sector, so we're deeply concerned that it's financed and that's why we pay taxes," says Fels.
Denmark misses out on huge amounts
ATP and Pensam told the audience that it is not unlawful for an American company to route all of its profit to European countries such as Ireland, Luxemburg or the Netherlands, which have lower tax rates.
It means that Denmark misses out on tax income which the company in question earned from the Danish consumers.
"We at ATP redesigned our tax policy which went into force on 1 January. It's stricter than the law as that there are many companies with aggressive tax regimes, and it's difficult to accept, although it's lawful," says Bo Foged, CFO of ATP which has DKK 700 billion under management with the purpose of paying pension benefits to most Danes.
ATP's tax regime implies that ATP does not invest in funds that have not adopted the CRS [Common Reporting Standards].
Difficult to avoid
If we take direct investments in listed multinational companies, it's almost impossible to avoid, says Fels.
"As an example, we've invested in Apple. We're looking globally when we invest in equity. If we had to consider if every company pays its taxes, it will be chaotic," Fels says.
"My point is I'm not having it in for Apple, as it isn't unlawful. Instead, we need the politicians and the EU to speak up," he says.
Slap to Council of the European Union
During his visit in Brussels, the Danish parliamentarians and Margrethe Vestager, EU Commissioner shows sympathy for the problem. However, when it comes to the Council of the European Union, that represents national governments, nothing happens. And Karsten Lauritzen, the Danish tax minister, is beaten for saying nothing.
"I'm disappointed with the council which is where the member countries' governments make the new rules. For instance, they should decide that it's unacceptable when Apple, Nike and others let sales coming from Denmark and other European countries go by and then route the money to the Netherlands," says Fels and continues:
"It's not only Luxemburg and Ireland, it's the Netherlands, a country we compare ourselves with. They have the most unethical tax regime when it comes to routing sales out of Europe. We must say no to that, and that requires the council's consent"
He told us that Pensam had invited Danish politicians to the debate, but his invitation was turned down.
"We did invite politicians to today's meeting, but they couldn't make it," Fels says, pointing out that it was one of the first debates of this year's festival.
Speak up
Lars Koch from the Danish Association for International Co-operation encourages pension funds to contact the media:
"I don't hear the voice of the people, and I think that ATP and other pension funds must speak up. We know that things only happen if they hit the media," says Koch.
Fels says:"This debate won't stop here and it will continue for the rest of the year."
English Edit: Lisa Castey Hall Nielsen