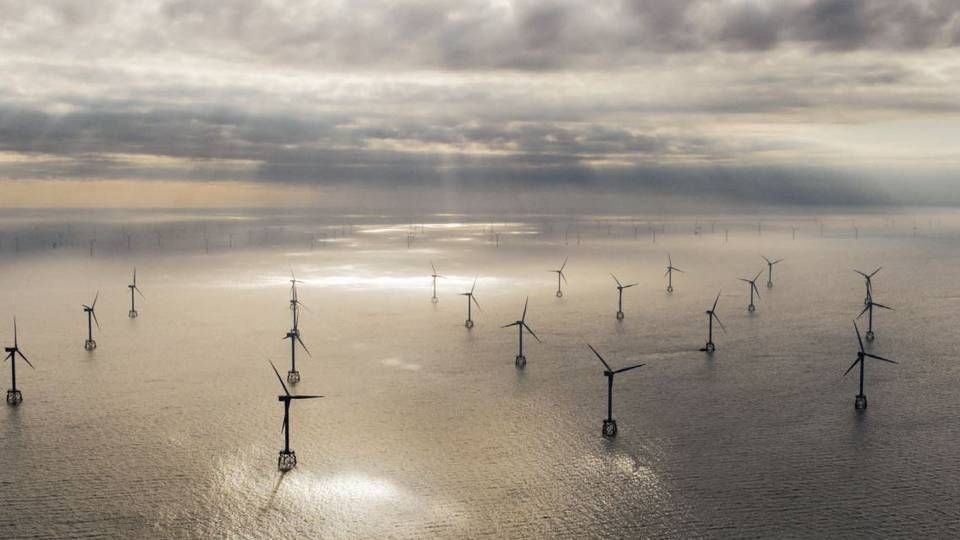 Many pension funds are turning their backs on offshore wind farms, as the reward potential from the risk is seemingly too low when investing in offshore wind turbines.
Developers are fiercely underbidding each other, resulting in smaller returns for investors in the offshore wind projects.
One of the pension funds to notice that returns have been pushed down is Danish Industriens Pension, which has already invested a total of DKK 1.6 billion (EUR 215 million) in two German offshore wind farms in the North Sea. These two investments were made in 2013 and 2014 respectively.
"During the few years since, the interest has significantly increased in this type of investments. This also means that the prices have gone up and we can see that nice shares have actually been traded in wind farms – even in the North Sea – and they are being traded at much higher prices than the prices from when we entered. We would not be able to enter an investment today and get returns anywhere near as positive as what we're getting from out current investments in the area," says Jan Østergaard, head of unlisted shares at Industriens Pension, to FWAM.
He explains that a higher price means lower returns.
In general, could you say that returns have gone too low for you to enter new offshore wind projects?
"We will probably not invest in any more offshore wind farms. Not at the moment anyway. We looked into wind farms at the right time. We're now seeing that there are other types of infrastructure assets where we can get a better investment case than via wind power," says Østergaard.
New players outbidding mature players
The offshore wind market is characterized by the fact that politicians want wind power, but they want it cheap. Many wind farm developers accept this premise. Recently, Dong Energy lost a Dutch tender for two major offshore wind farms, Borssele 3 and 4, totalling 680 MW.
A tender, which Dong looked set to win, as the Danish company had previously won the tenders for sister farms Borssele 1 and 2. Instead, the winner was a consortium, consisting of Shell, Van Oord, Eneco, and Mitsubishi/DGE, which emerged victorious by bidding with a price of just EUR 54.4 /mWh. This price is EUR 18 less than Dong's winning bid for Borssele 1 and 2.
No thank you
At Sampension, approximately one billion Danish kroner have been invested in onshore wind farms. As of now, the fund has not made direct investments in offshore wind.
"Our stance thus far has been to willingly look at these projects, but we have not invested in any offshore yet. This is mainly because we don't think we would be compensated in returns for the fact that the risk is still relatively high. It's not just a matter of regulatory risk – that plays a part of course – but it's also a technical risk, which is different than the risk of handling onshore wind projects," says Henrik Olejasz Larsen, Chief Investment Officer at Sampension.
PKA was among the first pension funds to directly invest in offshore wind farms and is now co-owner of four offshore farms after selling its share of the German wind farm Butendik. PKA also finds it increasingly difficult to pinpoint offshore wind projects with attractive returns.
"We made solid returns in all of our investments. But we can determine that the expected returns on new tendered projects are under pressure and this, of course, poses a challenge," says Michael Nellemann Pedersen, Chief Investment Officer at PKA.
"We have said no thanks to some operational projects, simply because we thought that the returns had been pushed down too far. So they were not compatible with the risk we would be taking on. You cannot underestimate that there is still risk involved," he adds.
The longer the line, the lower the returns
Morten Imsgard, share analyst at Sydbank, explains the two main factors which have put pressure on the returns of offshore wind turbines.
First, there is increased competition between developers such as Dong, Vattenfall, and Shell for the licenses to erect new offshore wind farms.
"This means that prices in Europe, available to project developers per megawatt of produced electricity, have plummeted over the past six months, driven by very competitive auctions in the Netherlands and Denmark," says Imsgard.
He explains that the increased competition is derived from rising political monitoring of the progress in the transition to renewable energy, while there is also focus on making this transition cheap.
The other side is that investors are struggling to find good returns, which is why many are seeking towards offshore wind turbines, where returns are typically higher than in many other investments, because the risk is greater.
"When Dong divests half a wind farm, my impression is that they currently have an incredible amount of potentially interested partners on the project. And, of course, the longer the line of potential investors outside of Dong wanting to invest in half a wind farm, the more Dong can pressure them into accepting lower returns on these alternative investments," says Imsgard.
Offshore wind is more mature
Another Danish pension fund, PFA, expressed last February that it had been pushed out of climate-friendly investments because demand in the market was just too great.
"There is no doubt that the interest for climate investments has grown globally. Meanwhile, the supply of projects is limited and this puts pressure on prices," said Henrik Nøhr Poulsen, Chief Investment Officer at PFA, in comments to Danish media Børsen.
Since then, PFA has allocated DKK 40 billion for investments in alternatives. However, PFA declines to participate in an interview about potential investments in offshore wind.
Pensiondanmark and PKA were both among the first pension funds to invest directly in offshore wind farms. Copenhagen Infrastructure Partners handles the majority of Pensiondanmark's investments in energy-related infrastructure, including investments in offshore wind turbines.
At Copenhagen Infrastructure Partners, Senior Partner Christina Grumstrup Sørensen declines to comment on the development of returns in offshore wind turbines.
"I'd rather look at it this way: There has been a technological and commercial breakthrough. For offshore wind, it has always been criticized for being immature with very little volume, where it's hard to find big suppliers as well as invest in new capacity and new technology. In reality, it's just a curve you have climbed over, so that now you get much bigger turbines and the ships are dedicated and built just for this," she says.
English Edit: Gretchen Deverell Pedersen