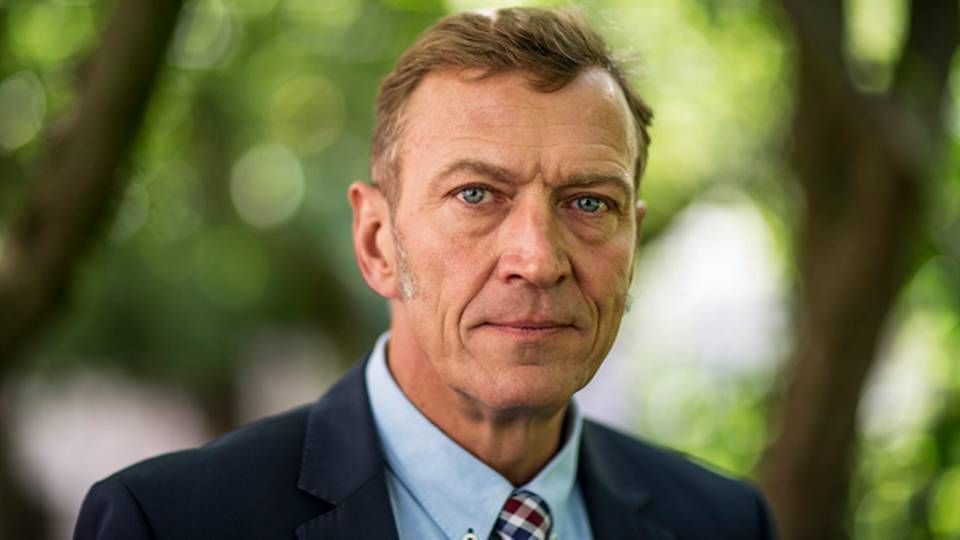 When Nets held its first general assembly at a publicly listed compamy last Wednesday, the conference hall in Copenhagen was rather devoid of institutional investors. Neither Danish pension giant ATP, nor private equity funds Bain and Advent, which all hold stocks in Nets, were present.
This has prompted sharp criticism from the Danish Shareholders Association, which argues that the institutional investors should have demanded an answer to why Nets' stock price has been declining rapidly since the company's listing on September 23 last year, and how the board of directors plans to reverse the decline.
"It was disgraceful that the hall was empty of institutional investors," says Leonhardt Pihl, Chief Executive at the Danish Shareholders Association.
"I don't understand why ATP would fail to attend. This current situation with Nets calls for active ownership from institutional investors, as the Committee for recommendations on corporate governance has advised," he says.
Sharp drop in stock prices
Nets stock last week closed at DKK 105.9 (EUR 14.24) per share against an IPO price of DKK 150, equivalent to a 29.4 percent drop since Nets went public in September last year.
ATP and the two American equity funds Bain Capital and Advent International, which owned Nets before the listing and still holds shares in the company, should have attended the general assembly to demand an explanation to the price collapse, says Pihl.
"ATP is present at general assemblies under normal circumstances. It was very odd that I was the first to address the assembly after the chairman's report. We are always second in line. This is a C20 company that clearly needs a little help to get corporate governance under control," Pihl says, referring to the index of the 20 most traded danish equities.
"There could be several reasons for their absence. It could be that they have virtually given up on Nets. Or perhaps they have no more stocks. A third reason could be they have had consultations with Nets that you and I are unaware of. In that case, I would like to know what kind agreement they reached with the board of directors at Nets."
ATP: Would be an inappropriate mix
Stephan Ghisler-Solvang, public relations officer at ATP, finds that it would have been inappropriate for ATP to voice criticism at the general assembly because ATP took part in Nets' initial public offering, and hence had an influence on the process.
Why didn't you attend Nets' general assembly?
"We didn't attend because – like in the case with Dong Energy – we were on the sales side of the initial public offering, and we believe on grounds of principle that it would have been inappropriate for us to attend the next general assembly when we were on the sales side of the IPO," says Ghisler-Solvang to FWAM.
Why do these two things constitute a conflict of interests?
"Because we could then potentially get up and comment on ourselves indirectly."
But Nets' board of directors has been running the company after the listing. Surely you could have some questions regarding that?
"We think that it would be a clash. We have yet to comment on the development in Dong for the same reason."
The Danish Shareholders Association finds it disgraceful that you and the other institutional investors didn't attend. What do you say to that?
"I fully respect that they view the situation differently than we do. Of course, if we hadn't been in the circle of owners before the listing, we would have attended."
Are you surprised that none of the institutional investors were present?
"I'm glad to address the question of ATP, but it's not my place to address other investors' attendance," says Ghisler-Solvang to FWAM.
Shareholders Association: Nets were unresponsive
Christian Hyldahl, CEO at ATP, has previously said to FWAM that he finds that the bonuses rewarded to Nets' board of directors in connection with the IPO were at the plush end of the scale, and that ATP will, as part of the idea of active ownership, take a stand on such cases in the future.
"It's one of the things that I've had the opportunity to talk over a bit internally. I can't imagine that we would pass up the opportunity to make sure that there's a cap on that kind of scheme if we have the authority to do so in similar scenarios in the future," Hyldahl said to FWAM.
In contrast to the institutional investors, several private investors attended Nets' general assembly. A number of shareholders were openly frustrated over their investment loss, criticizing the millions of DKK spent on bonuses for Nets' board of directors in relation to the public listing.
"It's an encouraging thing that the private shareholders sought dialogue with the company. But I think Nets displayed a certain degree of unresponsiveness towards some of the shareholders' contributions," says managing director of the Danish Shareholders Association, Leonhardt Pihl.
Inge K. Hansen, chairman of the board of directors of Nets, said to the shareholders at the general assembly that it was not Nets that paid for the bonus scheme, but the two American equity funds. He added that the company's senior staff ran a risk by joining the scheme because they had to invest a certain amount.
English Edit: Marie Honoré