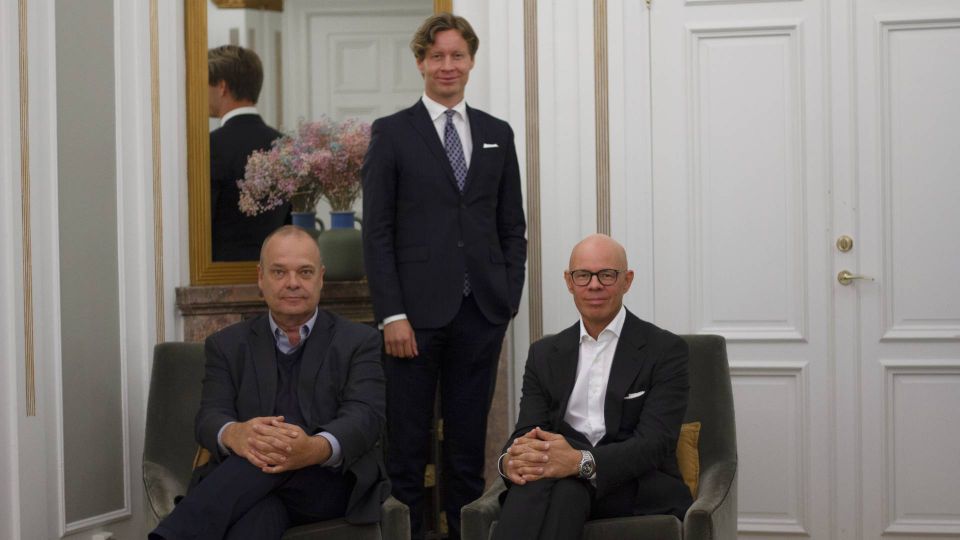 Swedish corporate advisory business Stadsholmen Equity has already received plenty of proposals from unlisted companies looking for investors since it was officially launched in mid-September, co-founder and managing partner Andreas Lindström tells AMWatch.
The former Erik Penser Bank executive launched the company alongside former employment minister Sven Otto Littorin, entrepreneur Johan Svärd and former Carnegie institutional broker Filip Dunér. The aim is to connect high-net-worth individuals, investment companies and VC funds with unlisted small caps in the real estate and tech space.
In need of cash
What is clear, not least since launching the company, is that many companies need capital.
"In about two weeks, we must have received at least 40 proposals from different companies that are in need of capital. At the same time, we have to be very selective. Right now, we're busy meeting with and analyzing several companies that need our services and parallel to that, we're also meeting with investors to gauge the market pulse and see whether there is a will to conduct transactions in the current market environment," Lindström says.
Meeting with these investors has yielded several conclusions, one of which is that companies today need to be a lot more transparent and have a clearer business plan than even one year ago.
Be realistic
"The companies have to be more realistic in their valuations today. A lot of companies in the sectors we focus on have gotten used to sky high valuations but we're in a completely different market today and it's crucial that management and existing share holders are aware of that," he says.
But the changing market environment hasn't eliminated the desire or ability to invest.
"That being said, there is a strong will among investors because there is a lot of liquidity. A lot of them are sitting on the sidelines with a lot of capital, waiting for the right case. If companies issue shares at realistic valuations, then there is money to be accessed," he says.
Stadsholmen Equity has also made a recent high-profile hire, bringing in well-known Swedish media entrepreneur Gunnar Bergvall as senior advisor, as reported by AMWatch. He founded the TV4 tv channel in the 90s and has since also built up a sizeable IT consultancy.
"He's a good friend and something of a mentor to me," Lindström says, adding that having people like Bergvall on board is one of the reasons he believes the company stands out compared to others. The company also counts experienced tax and real estate transaction lawyer Emine Lundkvist as a senior advisor.
"We have a lot of senior people in our organization, for a newly launched business. That puts both our network and our expertise at a high level from the start."
The two sectors that Stadsholmen Equity has as its primary focus, real estate and tech, have not had the best of times in 2022. The rising inflation and high interest rates have hit these segments particularly hard, but Lindström isn't worried.
"This is when you separate the wheat from the chaff," he says, further explaining:
"To use an example, there are plenty of opportunities today for real estate firms to either buy others in the sector or buy properties, at a major discount. Those with good balance sheets that know what they're doing have the ability to act. It's the same with tech companies," he says.
Start domestically
Stadsholmen Equity will start with Swedish investors and companies as its core business, but the corporate advisor is open to going abroad, in the Nordics as well as the rest of Europe, in the future.
What drew Lindström to start the latest venture was noticing the major interest from private banking clients for unlisted companies while working at Erik Penser Bank.
"A lot of people in this client segment have made their own entrepreneurial journey, they know the business and want to find smaller companies to support. That's something I noted. I also worked at the corporate access area in Erik Penser Bank for a time and noticed proposals from unlisted companies that wanted to be connected to private banking investors.," he says, adding:
"We had to turn them down at the time, because Erik Penser's core business is in companies listed on First North [a division of Nasdaq Nordic and an alternative stock exchange for smaller companies in Europe, -ed], but I noticed that there was a potential business in connecting these companies with investors."
Former fund selector's advisory business brings in top senior advisor