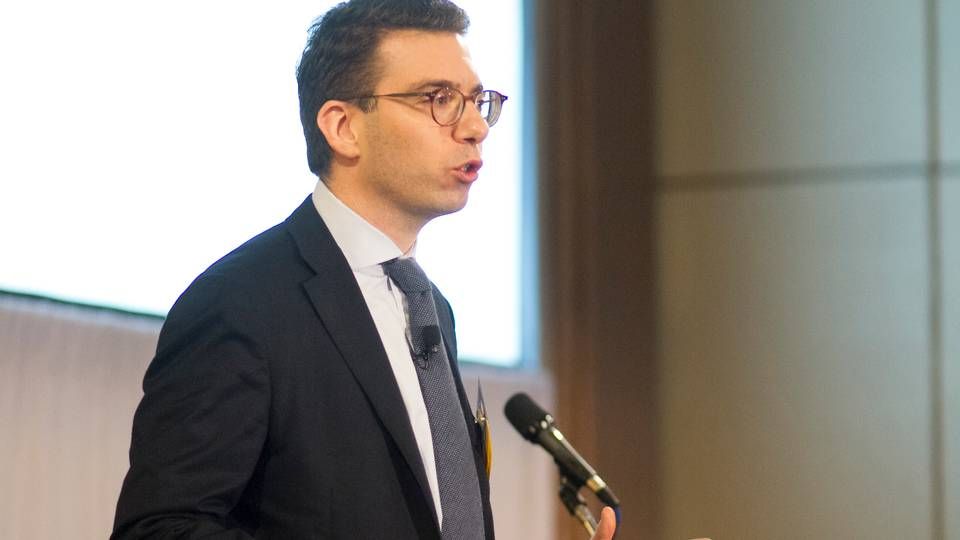 NEW YORK
"I'm not as optimistic as you. We call it realistic," said Chief Analyst Christopher Rex of Danish Ship Finance when he spoke in front of a large audience in New York this Tuesday – an audience that was hungry for good news about the shipping sector.
Marine Money's annual capital conference in New York is a suitable place to gauge whether investors, equity funds, and banks have confidence in the shipping sector. This year features more than 1,000 participants, and tis number indicates a certain degree of interest from the capital markets in a sector which has otherwise suffered significant losses over recent years. But there is also no doubt that bankers as well as portfolio managers and Chinese leasing banks, which had gathered for this occasion, were searching for positive signals from the sector, and for news that things had finally improved.
This news did not come from Rex, who with his last couple of analyses of the shipping markets has by now manifested himself as one of the economists sounding the alarms.
Plenty of signs of danger
There are numerous signs of danger, said Rex, noting in general that shipping is acting according to a business model that belongs in the past.
"There is a belief that global population growth, a couple of billions in the years to come, in itself will be enough to create growth that will benefit the shipping sector. That's just not right. The deciding factor will be the extent to which they can achieve a growth that will contribute positively to seafreight, and that's far from certain," he said.
The argument from Danish Ship Finance's chief analyst is that the coming decade will bring changes that are so major that they will radically change the conditions on which the shipping sector operates.
"A large demographic shift will happen in the US, Europe, and Asia, where the generation that has contributed significantly to the growth in seafreight will disappear, to be replaced by a new generation that thinks and prioritizes differently, and which has completely new possibilities," said Rex.
From coal to solar cells
A concrete example is that the "older generation" used coal, which needed to be transported by ship, whereas the new generation in the not too distant future will likely be able to install solar panels at home to charge the batteries used by their car and to create electricity for their home.
"The shipping sector must adapt to the major changes, but the problem is that everything is geared for growth. So a new business model is needed, a kind of new layer in the strategy," he explained.
He does not have a quick fix ready for how the ships operating on the basis of commodity transports should prepare for a future that could bring fewer and fewer fossil fuels. The key word, rather, is digitalization.
He notes that the deciding factor, in terms of who will be left as winners in the future, is the individual companies' ability to use digitalization to create new market opportunities, and not just use it to cut costs. If a carrier creates a trading platform together with one or more companies in the industry, it could, ideally, become the preferred platform for making arrangements with customers, even for other market players, thus creating a new business.
Customers bidding on contracts
This development is only just the beginning, with Maersk Line among the companies striving hard to be at the forefront, along with other players such as mining giant BHP Billiton, which puts contracts online and allows customers to bid on them.
"Data in and of itself is only a step on the way. The deciding factor will be the opportunities the individual shipping company can create using digitalization. Still, when one meets numerous stakeholders, for instance at a conference such as this, the word goes: It won't happen. We're sticking with the old business model. And the fact is likely that not everyone will be part of it," he told ShippingWatch.
English Edit: Daniel Logan Berg-Munch