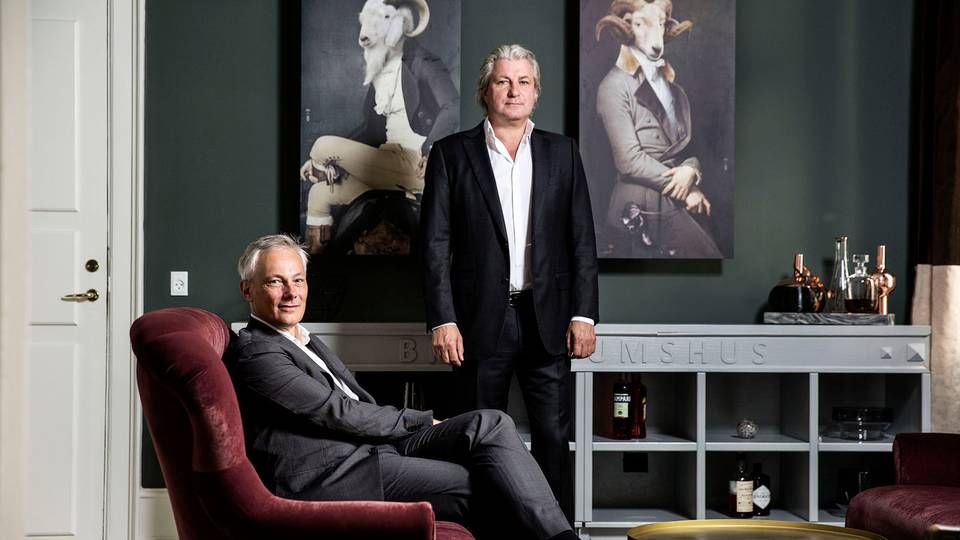 In other western countries, more and more external managers have slowly entered the the market for mutual fund, which has been dominated by banks, but according to Peter Kubicki and Christian Klarskov, Denmark is falling behind.
"A guess could be that the banks have 99 percent of all the capital in Denmark. There are maybe 15-19 players of our kind in total. If you look at Sweden, Norway, Germany, I'd guess that 20-30 percent of the capital is in the hands of external managers of some type,"says CEO Peter Kubicki.
The pair is now trying to change this slightly with the launch of Investeringsrådgivning A/S' first investment company, IR Invest.
"Denmark is the last country in the West where banks own it all. The market is huge. There is hundreds of billions of kroner in the mutual funds in the banks," says partner and investment director Christian Klarskov.
"We would like to get DKK 100 million over the course of 14 days, then we would be happy. I don't see any problem in aiming for around DKK 2 billion under management in IR Invest. I don't know if it'll take two or three years."
Investeringsrådgivning A/S currently has just under DKK 3 billion under management, placed in German equities, Danish equities, and a bit in bonds, Klarskov and Kubicki say.
The company has beaten the market significantly
It was decided that he launch of the mutual fund was to happen now because the investment manager generated good returns for three years, says Peter Kubicki. At the same time, according to Kubicki, Investment Director Christian Klarskov has in these three years beaten the market with returns of 45 per cent.
"It turns out that Christian has been lucky – and skillful – in choosing good single equities, and that has yielded fantastic returns. So good that we are ranked second in Denmark after Michael Foss. Now that Christian has done so well, it would be stupid not to try to profit from it by building a fund on just that. That is what we are doing with our new mutual fund," Peter Kubicki explains.
However, according to Cristian Klarskov, the good returns are not going to keep up the skyrocketing course.
"We have beaten the market with 45 percent in three years. We are not going to repeat that in the next three years. We have were dealt a lucky hand in the three years past, and anyone who believes we can do it again will not allowed to become customers, because they can only be disappointed. We will just continue to do better than the market," the Investment Director says about the future goals for returns.
Dare to sell out completely
At Investeringsrådgivning A/S, the executives are not afraid to hit zero on one equity if they see a risk that equity prices for a company in the portfolio may nosedive.
"If we believe that Novo might drop by half, then we will not go out and sell out from 10 to 8 percent. We would sell from 10 to 0 percent," Christian Klarskov says.
He is also not afraid to buy equities in large bulks if he believes strongly in them. "There's no reason to go from weighting the equity from 2 percent in benchmark to 3 percent if you believe in an equity. If the equity ends up rising by 100 percent, you can't even tell from the second decimal point. If that happens, we buy 10 percent of the equities. That's how we have generated returns of 45 percent," he explains. Christian Klarskov says that the company for example has (almost) no bank equities because, like many others, it does not believe that interest rates will rise again.
"If interest rates don't rise, bank equity prices will fall, so we don't have bank equities. That's not entirely true, we have 1 percent in a small local bank that is way too cheap," he says, adding: "I could not even dream of owning a bank equity. Why should I, as a professional, when other people have chosen to trust me with their assets, then go put them in bank equities?"
The mutual fund differs inherently from the company's alternative investment fund (AIF) for legal and fiscal reasons, but according to the investment director, the level of difference between the investments in the company's alternative investment fund and the mutual fund is relatively small.
"We basically have 16-17 equities in the AIF. We will have about 20 equities in the mutual fund. In the AIF, I get a headache if we have more than 12 percent in a single equity. We are allowed a maximum of 10 percent in the mutual fund according to law. Technically they can't be the same portfolio, but when we look back in three years, the two will have looked much alike in terms of equity selection – and there will not be much difference in weighting," Christian Klarskov explains.
Invest the money themselves
It is important for Klarskov and Kubicki to emphasize that they both have their own money invested in Investeringsrådgivning A/S.
"If your external manager does not, while looking you in the face, say," My money is with the customers', " then you have to get out. I know from the banking world that they do not do that," says Christian Klarskov, referring to the many mutual funds in the banks. In IR Invest, you get more than you do in the banks' mutual funds, says Peter Kubicki. Although investment consultancy is not the cheapest choice, customers get the active management that they actually pay for.
"Banks try to hedge everything and everyone, prices are relatively high, and they are really just buying index, plus they charge as if it's active management. You pay us to take a risk, and historically it has gone quite well because we are good at what we do. In the banks you pay a lot of money for what you think is active management, but in reality it is closer to passive management," he says. Christian Klarskov has previously been portfolio manager at Nordea Invest Danske Shares, among other places, while Peter Kubicki is the former CEO of SEB.
English Edit: Marie Honoré