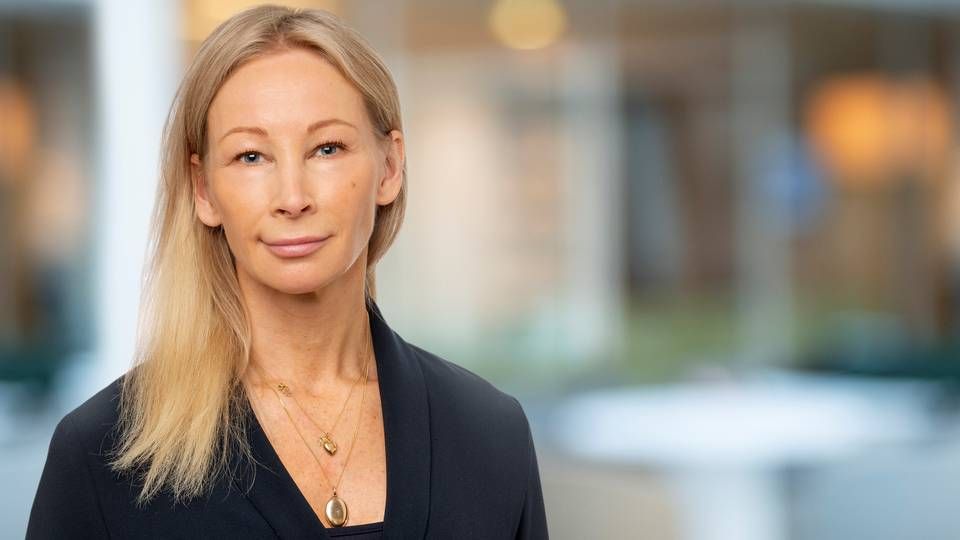 Name: Elisabeth Sterner
Age: 49
Company: BlackRock
Position: Managing director and Head of iShares and Wealth in the Nordic region
Which career path did you imagine for yourself when you were younger?
During primary school my teachers and I were certain that I was going to be an author or a journalist. I always loved to write. This was before personal computers, so I mostly handwrote stories with a pencil and eraser. I wrote a massive number of books and articles that way. When I got a bit older, I thought of police work and flying helicopters as potential career paths. I still haven't given up on the last one.
Was there a specific time where you decided on the career path you have today?
I think there comes a point where you have to make a rational choice about your career, and I was interested in savings, investments and especially the stock market at an early age. So, I decided to move into finance and take a Master's in business administration.
Where did that interest come from?
Very much from my father. He was interested in equities. But also, my great-grandmother. She was most likely one of the first female investors in equities in Sweden. She was very old when I was a child, but I remember her sitting in her old house listening to the stock prices on the radio. She was really an inspiration to me.
Which part of your education have you used the most in your career?
The traditional finance classes are a good base when you work with investments, but I really think that everything related to organizational development and psychology is even more valuable. Understanding how people in organizations work is a prerequisite to working as a leader. It is also important for when you design your organization, for how you motivate your team on a day-to-day basis, and for when you work with business development with clients.
Which part of your CV/resumé represents the biggest change in your career?
Looking at my CV, it might seem like I haven't had that many major changes. I was at SEB for 19 years before coming to BlackRock, where I have been for four years now. But when you take a closer look, you can see that I have actually changed jobs every third year or so. For me, that has been a way to secure constant development. I have been working within the field of wealth management the whole time, but I have had many different roles in risk management, business development, investment management, private banking, and institutional sales.
So you did many different things during your 19 years at SEB?
Yes, but also before that. When I was studying at university, I started in the financial industry. I worked evenings in the back office at a brokerage firm. I think that has helped me a lot; starting at the core of the operation and understanding how the whole value chain works. It's quite funny to think about, when you realize how digitalized everything is today: back then, the stockbrokers still did paper forms, and I believe blue paper was for 'sell' and yellow was for 'buy'. So, I would sit there in the evenings putting the trading information into the system.
Were you doing that, while you were studying at university?
Yes. I had my first summer job when I was around 15, selling gasoline and ice-cream to the boating community. During gymnasium (high school) I was administrating clients' claims at IKEA. I think all those roles have taught me client services and how to interact with people, which is very important in my role today.
What is the best part of the professional position you have now?
It is the combination of having a sizable Nordic organization with local knowledge and resources and the infrastructure of a large global firm. That combination is incredibly valuable to me, and so is working on a day-to-day basis with both colleagues and clients to develop the business and help more people experience financial well-being. What is really rewarding is working with clients and trying to meet their needs. It might sound a little cliché, but it is truly rewarding to find solutions together.
Which boss/leader in the business has inspired you the most?
There are two people I would like to highlight; the first one is my father. I have not worked with him, but he has been a great inspiration in my life. He was into developing computer systems quite early on and he was very passionate about it. It sounds like I am 100 years old, but I remember him sitting with stacks of paper with codes on them, and he would sit in the evening correcting codes with a pencil and paper. His philosophy of life was 'learning by doing'. This was in the early years of the development of computer programming, so he had to just try to do it. He taught me to learn by doing and to do what you think is right; and if you fail, you did so with good intentions.
In my work life today, I work in an organization with many inspiring leaders – including a lot of senior female leaders. One that stands out to me is Rachel Lord, former Head of EMEA, now Head of APAC for BlackRock. I think that Rachel has a unique combination of intellect, vision, empathy and humor. She is really an inspiration to me.
What preoccupies you at this moment in time?
In terms of business and the organization, we have had a significant growth in the region in the last ten years. There are currently 45 people employed in Copenhagen and Stockholm managing approx. USD 125bn on behalf of clients.
On a daily basis, I work with how we can develop the organization further and service our clients in the best ways. One part of that is to become more local and engage with not only clients, but also with local industries in a societal context. One example of that is that we just became members of Swesif, which is an organization that promotes sustainable investments in Sweden. The Nordic business is very solution-oriented, meaning it is less about product distribution and more focused on tailoring solutions and mandates to clients. What we see more and more is the focus on sustainability and how we can advance sustainable investing because we share our clients' conviction that it delivers better outcomes for investors.
From a more personal perspective, I am very engaged in how we can get women to invest more and take more control of their financial situation, and also how we can get financial education into schools earlier. I think that is something everyone in the industry should contribute to.
Lastly, I really look forward to going back to the office and seeing my colleagues and clients –I have really been missing that over the last 18 months.
You mention supporting women in finance; have you seen an increase in women in your field over the years?
Definitely. There is a big difference from when I started. I think there is also a shift in generations now. I think women now claim their space in a way that previous generations couldn't. There are also a lot of industry initiatives supporting female investors and female entrepreneurs etc. I think the development in the industry is definitely positive.
How Asia and China studies led to a career at Storebrand
CEO and Partner had to look hard for female colleagues – now wants others to speak up
Swedish minister targets 'horrendous' wealth gap between sexes